Autodesk FeatureCAM 2018.3.2 Update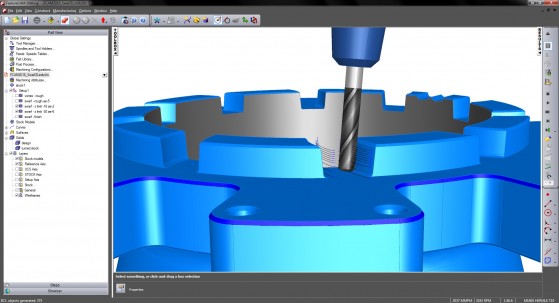 Autodesk FeatureCAM 2018.3.2 Update | 554.1 mb
Autodesk Inc., a world leader in 3D design software for entertainment, natural resources, manufacturing, engineering, construction, and civil infrastructure, has released an update to FeatureCAM 2018, is an easy-to-use solution for milling machines, turning and turn/mill centres, and wire electrical discharge machines (EDMs).
Version: 2018.3.2 Build 028
Shared Views
- Improve the display of toolpath names by replacing single letter abbreviations with the full operation name shown in the application.
- Fix a bug in which only the first level of a Z-level toolpath was exported.
- Fix a bug in which the icon label and tooltip help strings for Shared Views were missing.
Swiss Turning
- Add machining attributes for Groove features that allow users to turn rough and finish passes off by default.
- Include a swiss machining configuration file in the distribution; it contains settings that are appropriate for the smaller parts typical in swiss machining.
- Include an addin on the distribution for feature recognition of swiss parts; it takes into account the amount of stock available before needing a rechuck when creating Turning features.
- Fix a bug in which a selected sync point could not be removed. This could affect turn/mill parts as well as swiss parts.
Fusion 360 Production
- The interface to Fusion 360 Production was not querying the server for valid tenant and workstation IDs.
- Fix a bug if the job name was left empty when setting up the part to send to Fusion 360 Production
User Interface
- Fix a bug when typing values in the Geometry Edit bar at the bottom of the application window. The bug depended on where the Windows click focus had been set.
- Disallow creation of patterns around the Z index axis when in a 4-axis document with a feature at the origin. (All other cases were already disallowed.)
- Fix a bug where the bitmap image in a Groove feature was displaying as black.
Transform
- Fix a bug in which transforming a feature doubled the transformation distance. This same issue also could cause transforming existing features with respect to a different setup to give an incorrect result.
Print
- Fix the Print function so that options for selecting which pages to include in the output are honored.
STEP PMI
- Fix a bug in which the visibility settings of dimensions in saved views was not being honored.
Post-Processing
- Fix a bug in which PostNCCreate (used in many addins) was not being called for posts using managed output files.
API
- Fix a bug in which the AddTool2 function failed to copy overrides into the active tool crib.
Crashes
- Fix a crash that could occur when creating a Side feature using two lines that were in the same direction.
- Fix a crash that could occur when changing the default tool register in certain circumstances.
- Fixes for several additional crashes reported via Customer Error Reports are included.
Version: 2018.1.2 Build 1070217
General
- Fixed a problem with software crashing if a setup sheet was generated while solids verification was paused
- Fixed a problem where processes using a tool head were not highlighted in the process table during simulation
Solids Interface
- Fixed a problem rendering Mill Diam Polar and 4 axis simultaneous toolpaths
- Fixed a problem with slow verification of certain turning toolpaths
Machine Tool Compatibility
- Added NC code viewing and alignment capability for the following machines : Star_SB16R_G_HP_OiTF, Star_SB20R_G_HP_OiTF, Hanwha_XD26H
Post Processing
- Fixed a problem with NC code generated when the time chart was displayed in the process table
- Fixed a problem with NC code for certain imported PowerMill hole toolpaths
About Autodesk FeatureCAM 2018. The updates to FeatureCAM 2018 are significant, including the updated ribbon-style user interface. This change enhances the look and feel of the software. With an icon, accompanying text and dynamic help, users will have easy access to the tools they use most often as well as more visibility and insight into different functionality they may not have known was available within the software. Finally, the layout of the ribbon is customizable so users will have the option of creating their preferred working environment.
Beyond the user interface, the updates to functionality are also pretty cool:
- Automatic toolpath angle: users can now quickly fine-tune the angle for their parallel finishing toolpaths, based on the region that is being machined and create more efficient toolpaths from multiple surfaces.
- Automatic 3+2 positioning: New automatic 3+2 positioning allows users to use the axis limits of the machine to quickly determine whether the axis needs to be in a standard or an alternate position, which helps validate that the program is within the machine's working envelope.
About Autodesk PartMaker 2018. PartMaker, available as part of FeatureCAM, also received a pretty significant makeover. PartMaker is production-oriented CAM software for complex, high-precision part manufacturing with Swiss-type lathes. The 2018 version now includes:
- Laser machining: there has been a lot of interest around Swiss machines in the industry and they are becoming more and more popular. This new update will allow users to program and simulate Swiss machines with integrated laser cutting capabilities as well as control the pulse width, frequency, assist gas and power levels for intricate cutting results.
- Keyway broaching: a popular technique for high production runs, keyway broaching allows the user to set the index position of the stock prior to machining and choose the number of cuts they want to make.
- Workflow improvements: to further improve user experience, we have also created a new 3D view of models within setup sheets to enhance visualization. We have also updated toolpath verification with the ability to pause, rewind and display the tool shank and enabled undocking of windows for use on a second monitor.
Note: Though the software is integrated in FeatureCAM, it needs its own update, since it's not updated by FeatureCAM updates
About Autodesk. Autodesk helps people imagine, design and create a better world. Everyone-from design professionals, engineers and architects to digital artists, students and hobbyists-uses Autodesk software to unlock their creativity and solve important challenges.
Product: Autodesk FeatureCAM & PartMaker
Version: 2018.3.2 Build 028 Update & 2018.1.2 Build 1070217
Supported Architectures: x64
Website Home Page :
http://www.autodesk.com
Language: english
System Requirements: PC
Supported Operating Systems: Windows 7even or newer
Software Prerequisites: Autodesk FeatureCAM 2018
Size: 554.1 mb
DOWNLOAD LINKS :
Kod:

Treść widoczna tylko dla użytkowników forum Warezisko.net
Zaloguj się lub załóż darmowe konto na forum aby uzyskać dostęp bez limitów.