The Foundry MODO 13.1v1 (x64)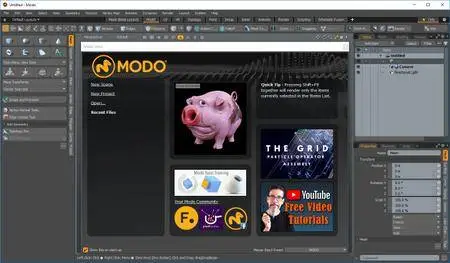 The Foundry MODO 13.1v1 (x64) | 1.1 GB
MODO is your starting point for creative exploration. Whether you're creating addictive real-time experiences, innovative product designs, compelling advertising images, or engaging film and video content, MODO's artist-friendly tools let you iterate freely to realize your ideas' full creative potential.
Offline GPU Rendering with AMD's Radeon ProRender
AMD's GPU accelerated path-tracer, the Radeon ProRender, is now part of Modo's collection of powerful rendering options and the beginning of increased rendering flexibility and improved APIs in Modo. In its first iteration for Modo 13, this hardware-agnostic, offline rendering solution gives artists the option of leveraging hardware that was once limited to real-time viewports.
AMD's powerful denoising technology has also been added in 13. This provides users with additional options to reduce render times by accessing one of two options available: Bilateral and Median. Much like the Radeon ProRender, AMD's denoiser is not vendor-specific and further expands the rendering options available to all users on Windows and OSX.
MeshFusion adds Kit Fusing
Modo's direct modeling toolset remains the most intuitive experience for 3D artists with new features including Relax Edge and Find Shortest Path Selection to enhance and accelerate creation workflows.
Building on our award-winning MeshFusion toolset, Modo 13 introduces Kit Fusing, allowing artists the ability to define only a portion of a mesh to be used for creating boolean operations. This powerful enhancement makes it easier to leverage complex meshes and allows for holes to create the impression of complex negative forms like fan grills with mechanical components that are visible inside a surface.
Elevated Animation Workflows with Layering Systems
The world's leading riggers and character artists use Modo for games, film, and TV. Using their feedback and driving Modo in production environments, we've been able to engineer solutions that target animation workflows. Modo's 12 Series included huge advancements to the schematic viewport, providing a cleaner and easier-to-manage artistic experience with features such as Notes to enhance collaborative pipelines. Modo 13 adds non-destructive editing of specific actions through the new Animation Layers feature, where each layer can be controlled to override or apply additively in a top-down format.
Masking with the new Animation Layer system allows for individual aspects of an animation to be isolated and uniquely defined.
Arrays Elevate Modo's Procedural Modeling Capabilities
Modo is unique in how it enables users to create customized workflows tailored to the needs of an artist or project. Arrays are a new addition to Modo's rigging system that allows for advanced storage, manipulation, and output of data in a variety of forms, further enabling what technical artists can engineer in Modo. Arrays help you construct complex relationships that can be leveraged across Modo's many systems including, rigging, procedural modeling, particles, and more to create the specific tools and behaviors you need to realize your creative vision, whether it's a custom modeling tool or an advanced motion graphics system.
Modo Bridge adds Unity Support
Modo Bridge for Unity adds similar functionality that was present in the Unreal Bridge, now through a shared interface to streamline interaction with real-time scene creation. Users can transfer Meshes, Instances, Textures, Materials, and Cameras between Modo and Unity with bilateral communication, allowing artists to move items back and forth between either application.
UV Enhancements
The UV toolset in Modo 13 has been further simplified to dramatically reduce the time required to generate clean UV maps. The new UV Cut Map allows artists to define sets of selections that are color-coded and displayed on the model in the 3D viewport. Enhancements to the UV Split, Wireframe Display, Packing, and the Edge and Vertex Slide bolster the Modo UV arsenal, allowing more control of the unwrapping and utilization of complex UV maps.
OS: Windows 7, Windows 8 and Windows 10 (64-bit only)
Processor: 2.5+ Ghz quad-core processor
Storage: 250+ GB disk space available for caching and temporary files. SSD is preferable.
RAM: 16 GB RAM with additional virtual memory
Display: 1920 x 1080 pixel resolution
Graphics Card: At least 2+ GB of video memory / driver support for OpenGL 4.4 or higher
-
DOWNLOAD LINKS :
Kod:

Treść widoczna tylko dla użytkowników forum Warezisko.net
Zaloguj się lub załóż darmowe konto na forum aby uzyskać dostęp bez limitów.