MAGIX Photostory 2019 18 Build 1.1.53 Deluxe Contents (x64)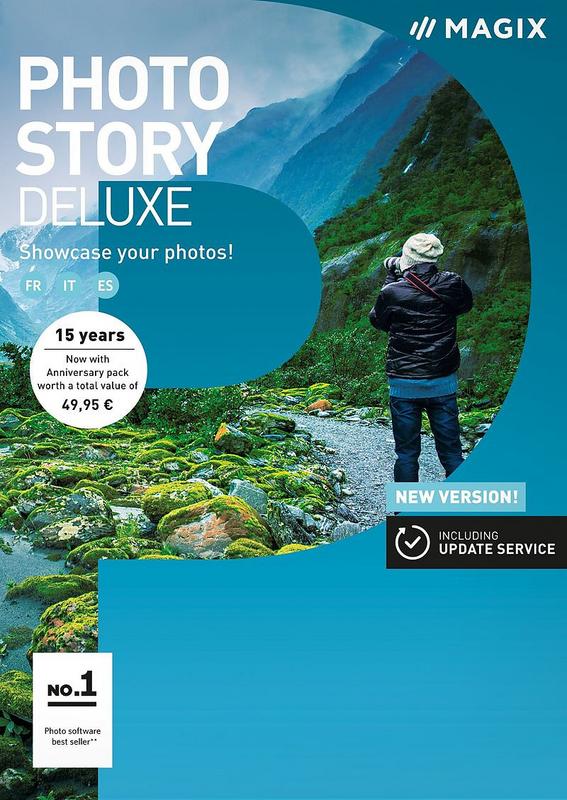 MAGIX Photostory 2019 18 Build 1.1.53 Deluxe Contents (x64) | 8.6 GB
Magix PhotoStory - allows you to convert your photos and videos into unforgettable slideshows with amazing transitions, sound, etc.
You can add to photos and videos of various effects, transitions, professional filters, titles, music and much more.
Creating a slideshow takes just a few easy steps.
First you have to import photos and videos, then edit them, applying effects, text, transitions and filters, and finally write the finished result to a CD or DVD disc.
With the help of the MAGIX PhotoStory application, a user with a minimum level of technical training will be able to turn scattered pictures from a personal photo archive into attractive slide shows.
The application supports the import of digital images and video from digital cameras, cell phones, memory cards, websites and several other sources.
Easy-to-use tools allow you to create collections of images, add text labels, transition effects and background music.
Individual font settings, transition effects and background music can be saved for later use in other projects.
The package includes ready-made design options, or "themes". One of the most interesting templates is an animated map on which the user can mark the route of their journey and specify the exact time and coordinates of the creation of a particular image.
The software allows you to record ready-made slide shows on optical media CD, DVD and Blu-ray, which can be played not only on a personal computer, but also on modern DVD-players.
The clients will have functional tools to manage the process of printing images. In addition, the results of the user's work are fully prepared for publication on web sites.
MAGIX PhotoStory supports uncompressed image formats (RAW) for more than 280 camera models, allows authors to provide a presentation with three-dimensional captions, use the picture-in-picture function to create fun collages, as well as create a handy navigation menu placed on a DVD.
Year / Release Date: 2018
Version: 18 Build 1.1.53
Developer: MAGIX Software GmbH
Developer site:
https://www.magix.com/us/photo-graphic/photostory/
Digit capacity: 64bit
Interface Language: English
Tabletka: present
System requirements:
MINIMUM:
OS: Windows 7 | 8 | 10 (64-bit)
Processor: 2 GHz
RAM: 2 GB of RAM
Video Card: Onboard, minimum resolution 1280 x 1024
Disk Space: 2 GB
Sound Card: Onboard
RECOMMENDED:
OS: Windows 7 | 8 | 10 (64-bit)
Processor: Quad-core processor with 2.8 GHz or better recommended
RAM: 4 GB of RAM
Video card: Dedicated at least 512MB VRAM recommended
Disk Space: 2 GB
DOWNLOAD LINKS :
Kod:

Treść widoczna tylko dla użytkowników forum Warezisko.net
Zaloguj się lub załóż darmowe konto na forum aby uzyskać dostęp bez limitów.